About Microcontrollers
Description
Microcontrollers are small computers that are integrated into many of the technologies that we use today. Microcontrollers can be found in automatically controlled devices, medical devices, power tools, and even toys. Microcontrollers can be used to easily develop a variety of different electronic devices. They are able to take code and immediately convert it into physical actions.
Equipment Reservation
Reservation Process
When equipment is required for extended periods of time in the Innovation Space and Research Lab it must be signed out. Equipment cannot leave the department. You can fill out the form but you must also leave your Student ID with the Lab Specialist.
Tech Kits
Tech Kits are part of the walk-in service provided by OPIM Innovate. There are three levels of difficulty meant for different users and their experience with the different technologies. Many of the Tech Kits build off each other as you progress.
Starter
Arduino Motion Sensor
Length: 30 – 60 Minutes
Description: Arduino is an open-source electronic prototyping platform. Arduino allows you to interact with the real world through, sensors, motors, lights, and other devices. Discover how to build a motion sensor in under 30 minutes and begin prototyping with Arduino.
Intermediate
Raspberry Pi Web Server
Length: 30 – 60 Minutes
Description: Raspberry Pi is a very basic credit card-sized computer that can run a complete Linux operating system. Although Raspberry Pi began as an educational tool it has quickly been adopted by inventors while prototyping. One of the benefits of Raspberry Pi 3 is its ability to connect to the internet. This tech kit will guide the user through making a web server and a basic web page.
Advanced
Develop a Raspberry Pi Alexa
Length: 30 – 60 Minutes
Description: Amazon recently opened the Alexa Voice platform that drives products like the Amazon Echo to development. This means that the power of the Alexa virtual assistant can be utilized in a variety of applications. This tech kit will help the user build their own Amazon Alexa by combining the power of Rasberry Pi and Amazon Voice Services.
Projects
Sample Project 1
Using an arduino microcontroller we set up a motion sensor in the lab to monitor traffic coming in and out of the space.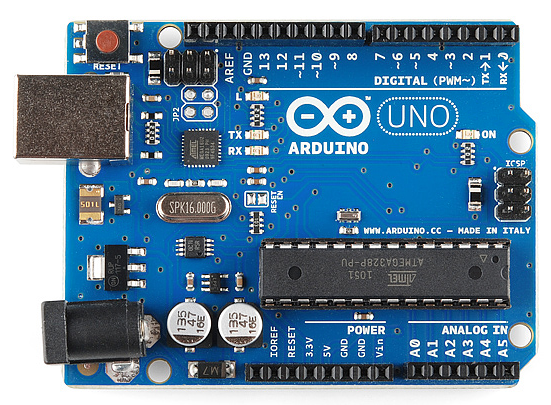 Sample Project 2
We set up a Raspberry Pi microcontroller with a plant sensor to measure the level of hydration. This was set up to a water pump and tube that watered the plant when needed.