About Virtual Reality
Description
Virtual Reality is the use of special technology to immerse users in a 3D computer generated world. In the last few years, Virtual Reality has become more obtainable than ever before between the development of VR ready computers, high end immersive headsets, and mobile VR applications. Virtual Reality is beginning to increase among consumers for entertainment purposes. However, many major companies are beginning to invest in this technology as a way to train employees or advertise to customers. Virtual Reality is the gateway for many other immersive experiences to come in the future.
Equipment Reservation
Reservation Process
When equipment is required for extended periods of time in the Innovation Space and Research Lab it must be signed out. Equipment cannot leave the department. You can fill out the form but you must also leave your Student ID with the Lab Specialist.
Tech Kits
Tech Kits are part of the walk-in service provided by OPIM Innovate. There are three levels of difficulty meant for different users and their experience with the different technologies. Many of the Tech Kits build off each other as you progress.
Starter
Google Cardboard
Length: 30 – 60 Minutes
Description: Google Cardboard is a widely available, introductory experience of modern virtual reality. Cardboard can allow a user to access a variety of VR content and fully immerse themselves in an entirely different world.
Intermediate
Vive Experience
Length: 30 – 60 Minutes
Description: The HTC Vive is an advanced virtual reality headset and platform for VR content. It works to construct a very life-like VR experience by turning any room into a 3D space. Vive uses a variety of sensors and controllers to create impressively immersive environments.
Advanced
Google Cardboard Camera
Length: 30 – 60 Minutes
Description: Create your own VR experience using Google Cardboard Camera. Google Cardboard Camera is an app for Android and iOS which enables any device to capture and create 3D virtual environments using a phone camera. These environments are then viewable from a Google Cardboard unit.
Projects
Sample Project 1
360 cameras have been used to create guided tours of the innovation space and research lab that can be watched in VR. Once the videos are made, we have utilized Google cardboards to watch the videos as an immersive experience.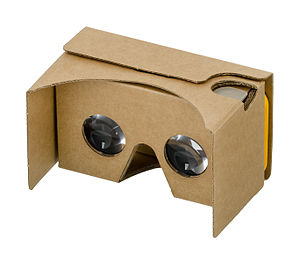 Sample Project 2
Our HTC Vive fully immersive VR system allows for a number of experiences that puts you right into a different world. From touring the inside of the human body to climbing Mt. Everest you can not experience these things, but control the environment around you.